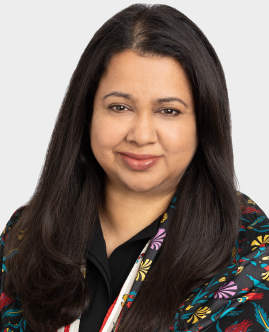 Sabera Choudhury is a Director in Resolution Economics' Financial Advisory and Services group in Chicago and has extensive experience in forensic investigations and litigation consulting.  She has advised counsel and their clients facing regulatory investigations on a range of issues including fraud and corruption. In conjunction with counsel, Ms. Choudhury has worked for boards, audit committee members, C-suite members including internal audit and compliance departments on issues such as antitrust, misconduct, cyber security, bribery, money laundering, and whistleblower allegations. As a compliance specialist, Ms. Choudhury has designed internal controls procedures to monitor and mitigate risk and developed remediation plans.  
In litigation matters, she has worked with litigation counsel, insurers, bankruptcy trustees, the U.S. Department of Justice, and international tax authorities.  Ms. Choudhury has determined damages and assessed the damages asserted by opposing experts in a variety of disputes such as tax and transfer pricing cases, commercial disputes, and for bankruptcy proceedings. She has worked on matters related to malpractice allegations, intellectual property, valuations, and high net-worth divorces.  She has led global cross functional teams and developed methodologies to conduct investigations and provide litigation consulting services using state of the art data analytic tools.
Ms. Choudhury has a successful track record of leading complex global investigations and litigations, having conducted engagements in North America, Europe and Asia. Her case experience spans various industries including financial services, health care, manufacturing, high-tech, telecommunications, and energy.
MBA, University of Chicago Booth School of Business
BA Economics, Barnard College, Columbia University