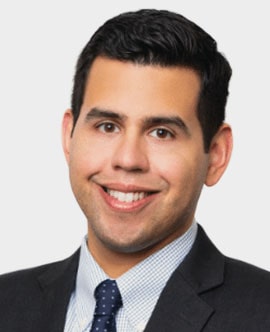 Tomas S. Garcia is a Director at Resolution Economics LLC, an economics and statistics consulting firm with offices in Los Angeles, Chicago, Washington, D.C., New York, and Charlotte. He holds a M.S. in Analytics from the University of Chicago and a B.A. in Psychology from the University of Pennsylvania.
Mr. Garcia has considerable experience in providing economic damages evaluations and statistical analyses in employment litigation matters concerning discrimination as well as wage and hour disputes. He has worked on matters alleging discrimination on the basis of age, gender, and race pertaining to pay, promotions, and terminations. With respect to wage and hour disputes, he has evaluated regular rate of pay, status classification, off-the-clock work, meal and rest breaks, and other federal and state specific issues.
Mr. Garcia specializes in analyzing large databases and preparing damages models for complex single state, multi-state, and federal disputes. Additionally, he has provided testimony at deposition and has been involved in the design and implementation of a large statewide observation study.
M.S. Analytics, University of Chicago
B.A. Psychology, University of Pennsylvania